The Roman Mausoleion Known As The "Fish Market"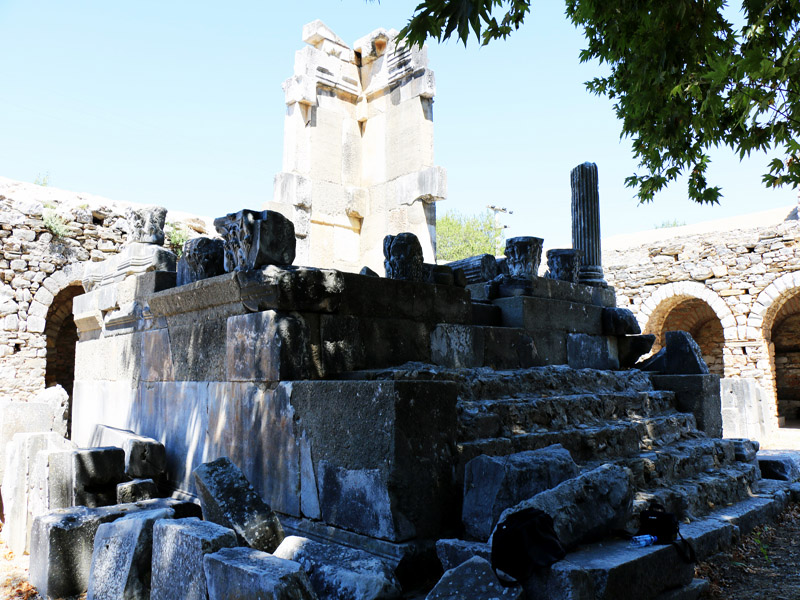 — Next to some of the standing arches of the 1st century AD aqueduct, there is a large quadriporticus building. Italian archaeologists visiting Iasos in the early 20th century thought that this structure, which was then largely buried, should be identified with the fish market of the ancient city, referred to by Strabo. The local Turkish name, 'Balık Pazarı', which is still in use, has derived from this erroneous identification. This is in fact a mausoleum of the Roman period, dating to the 2nd century AD, whose structure displays Syrian influences.

The individual who had this mausoleum constructed for himself or his own descendants remains unknown, but must have been an illustrious figure in the local community of his/her time.

In Byzantine times, when there was brisk trade in the local marble, the building was used for the storing and working of the blocks extracted from the quarries near the city, which have been found in large numbers during the excavation. The mausoleum houses the Antiquarium of Iasos, opened in 1995. The visitor to the archaeological site will find important supplementary information in the material displayed here, including many sculptures, inscriptions, architectural elements, mosaic floors and a group of large urns (pithoi) of the late Geometric period, which provide evidence for the history of the city from Archaic to Byzantine times.
---
Dating to the 2nd century AD
The mausoleum houses the Antiquarium of Iasos, opened in 1995.
---